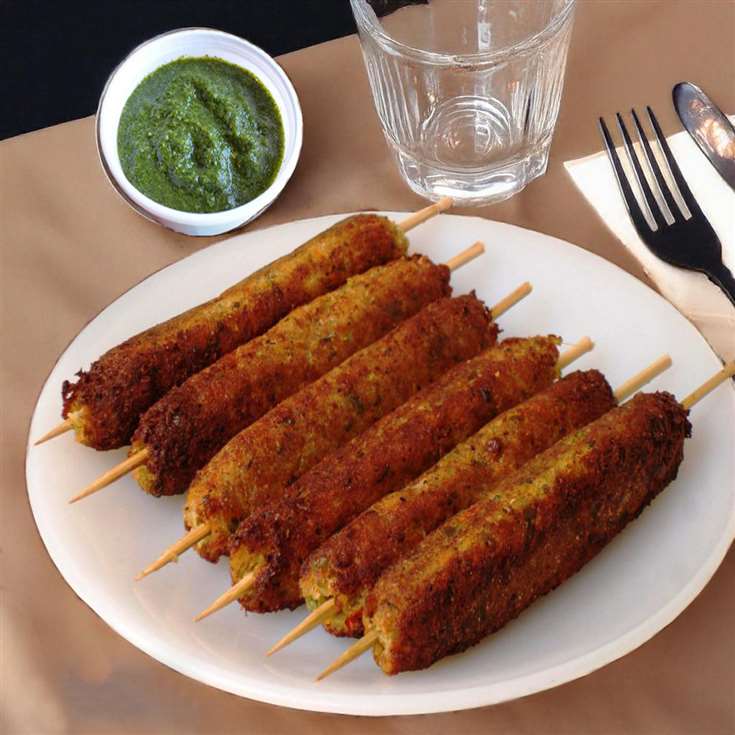 Seekh kebabs are generally known for a non-veg dish made with minced chicken or mutton and cooked in a tandoor. The vegetarian kebab is also a healthy and delicious dish. There are many varieties of vegetarian kebabs. We are sharing recipe of a vegetarian Kebab with Soya Chunks. To make this kebab, the mixture is first prepared using minced soya chunks, onions, roasted gram flour and spices, and is shaped into a saak kebab on a skewer, and then shallow fried on a tawa or grilled in tandoor. The seekh kebabs are served with green pudina chutney and onions.

Preparation Time :

30 Minutes

Cooking Time :

25 Minutes

Meal Type :

Appetizers and Snack

,

Vegetarian
| | | | |
| --- | --- | --- | --- |
| Soya Bean Chunks | 2 Cup | Salt | As Per Taste |
| Onion | 2 Medium | Ginger | 1 Inch |
| Garlic | 8 - 10 Cloves | Green Chilli | 2 - 3 |
| Red Chilli Powder | 1 Teaspoon or As Per Taste | Coriander Powder | 1 Tablespoon |
| Roasted Cumin Powder | 1 Teaspoon | Black Pepper Powder | 1/4 Teaspoon |
| Green Mango Powder (Aamchoor) | 1 Teaspoon | Black Salt | 1 Teaspoon or As Per Taste |
| Turmeric Powder | 1/4 Teaspoon | Roasted Gram Flour (Besan) | 2 Tablespoon |
| Garam Masala | 1 Teaspoon | Chopped Coriander Leaves | 2 Tablespoon |
| Chopped Mint Leaves (Pudina) | 2 Tablespoon | Chaat Masala | 1 Teaspoon |
| Ghee | 1 Tablespoon + For Shallow Fry | | |
Boil water in a large bowl over high heat. When water comes to a boil, reduce the heat to medium, add soya chunks and 1/4 teaspoon salt or as per your taste and allow it to boil on medium heat for about 3 minutes.
Remove all the water from the boiled soya chunks using a sieve. Wash the soya chunks with water in the sieve and squeeze the soya chunks to remove the water absorbed by the soya bean chunks.
Transfer these soya chunks to the mixer grinder and grind them to a fine paste. Transfer it to a bowl.
Cut the onion into the mixer grinder. Add green chilli, ginger and garlic. Grind them coarsely.
Take a large bowl and spread a muslin cloth over it and put onion mixture in it. Using the muslin cloth, squeeze out the extra water of the onion.
Mix this onion mixture in the same bowl that contains the soy chunks paste. Add salt as per taste, red chilli powder, coriander powder, roasted cumin powder, garam masala, mango powder, black salt, turmeric powder, black pepper powder, roasted gram flour, coriander leaves, mint leaves, chaat masala and 1 tablespoon ghee.
Mix well with your hand and knead well. Take some water in a bowl to wet your hand while making each kebab. Wet your right hand and take the skewer (seekh) in your left hand and take some mixture in your wet right hand and shape the kebab on the seekh and keep it aside.
Make other raw saak kebabs in this way.
For shallow frying, heat the griddle (tawa) over medium-high heat and pour some ghee over it. Set 3 - 4 raw kebabs on top of the griddle and fry them from all sides until they are golden brown, rotating them occasionally to fry them on all sides.
You can also roast them in the tandoor, oven or barbecue.
The Seekh Kebab is ready to serve. Sprinkle some lemon juice and chaat masala over the kebabs and serve hot kabab with mint chutney and onion rings.
Share Recipe With Your Friend



Reviews