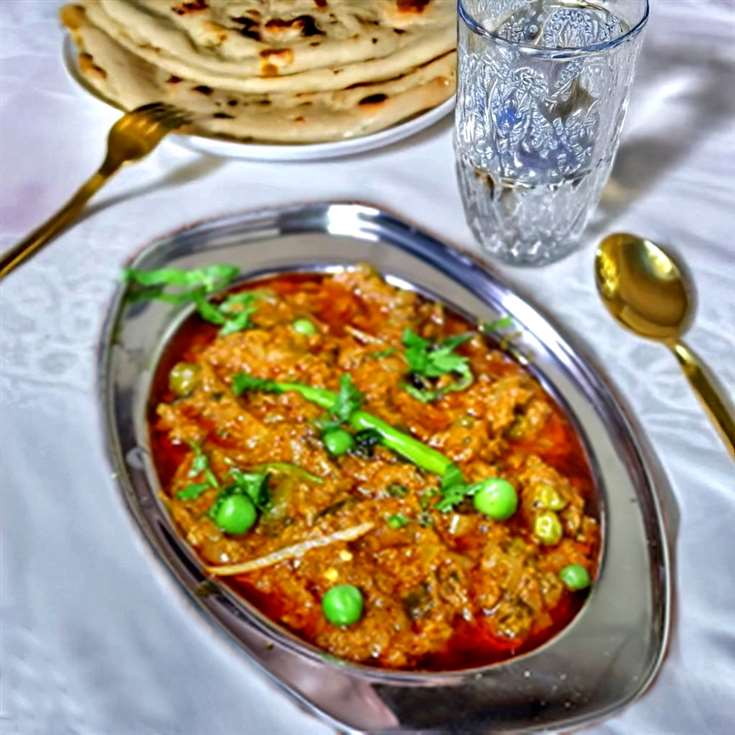 Soya Keema matar is a healthy and delicious vegetarian keema dish made with soya chunks or soya granules with green peas and some Indian traditional spices. Easy to make delicious but healthy soya keema matar that can be enjoyed at lunch or dinner, you can pack this delicious dish in a children's lunchbox. It is a great side food and can be served with both roti or rice. To make delicious soya keema matar, soak the soya chunks or soya granules in water, then grind the soaked soya granules in a mixer, but not too finely, then cook the minced soya granules with peas and spices. Serve the delicious Soya Keema Matar with Roti, Lachha Paratha or rice along with Boondi Raita for a perfect lunch or dinner.

Preparation Time :

30 Minutes

Cooking Time :

25 Minutes
| | | | |
| --- | --- | --- | --- |
| Soya Chunks | 1 Cup | Peas | 1 Cup |
| Ginger Paste | 1/2 Tablespoon | Curd | 1/2 Cup |
| Garlic Paste | 1/2 Tablespoon | Meat Masala | 2 Tablespoon |
| Turmeric Powder | 1/2 Teaspoon + 1/2 Teaspoon | Coriander Powder | 2 Tablespoon |
| Dried Fenugreek (Kasuri Methi) | 1 Teaspoon | Onions, Finely Chopped | 2 Medium |
| Garlic Cloves | 5 - 6 | Tomatoes, chopped | 2 Medium |
| Ginger | 1/2 Inch + 1 Inch For ginger Julienne For Granish | Green Chilli | 1 + 2 Sliced For Garnish |
| Salt | 1 Teaspoon | Cumin Seed | 1/2 Teaspoon |
| Asafoetida | A Pinch | Kashmiri Red Chilli Powder | 1 Teaspoon |
| Fresh Coriander leaves, chopped | 2 Tablespoon For Garnish | Ghee | 3 Tablespoon |
| Water | As Needed | | |
Soak the soya chunks in a large bowl for about 15 minutes in lukewarm water. After 15 minutes squeeze all the soya chunks so that the water drains out of them and it almost dries up.
Grind the soaked soya chunks in the grinder, we don't need fine paste so don't grind too much.
Take that minced soya in a large bowl. Add 1/2 teaspoon salt, ginger paste, garlic paste, curd, 1/2 teaspoon turmeric powder, coriander powder, kasoori methi, meat masala and mix well. Keep it aside.
Note : You can use instead of meat masala : 1 tablespoon garam masala, 1/2 tablespoon pepper powder, 1/2 tablespoon fennel powder and 1/4 teaspoon green cardamom powder.
Take tomatoes, garlic cloves, 1/2 inch ginger and 1 green chilli in grinder and grinder them to make a fine paste.
Heat 3 tablespoons ghee in a large wok on medium heat. When the ghee becomes medium hot, add cumin seeds and fry for a few seconds, when it starts crackling add asafoetida, chopped onions and fry it till it turns golden brown.
Add Kashmiri red chilli powder, 1/2 teaspoon turmeric powder, mix well and fry for a few seconds. Add peas and mix well and fry on medium heat for about 5 minutes, stirring continuously.
Add tomato puree and mix well. Add 1/2 teaspoon salt and mix well. Cover the wok and cook until oil start seperates, while stirring occasionally. This will take about 5 - 7 minutes.
Add minced soya mixture and mix well. Add 2 tablespoon of water to it and mix well. Reduce the heat to low. Cover the wok and let it cook on low heat for about 10 minutes.
Open the wok after 10 minutes and mix well. Add ginger julienne, 2 sliced green chilies and coriander leaves and mix well.
Soya keema matar, delicious vegetarian keema is ready. Serve with Roti, Lacha Paratha or Rice.
Share Recipe With Your Friend



Reviews