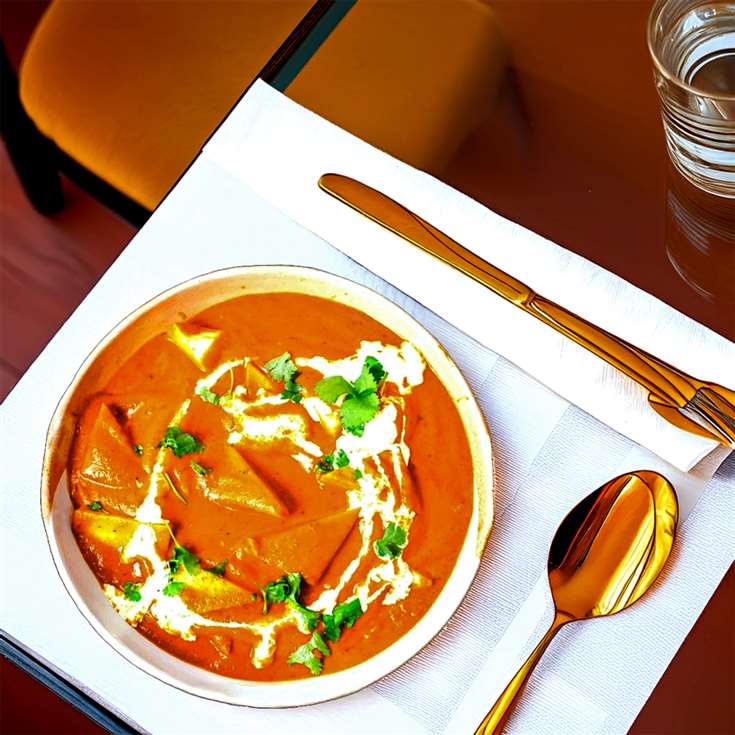 Shahi Paneer - is a delicious, creamy and rich Indian vegetable made from paneer, which is very much popular throughout the India. Shahi referred to royal and as the name Shahi Paneer, the dish is also a royal in taste and is made of paneer with nuts, fresh curd or cream, onion and spices. Shahi Paneer is popular all over India and in all Indian hotels and restaurants and is made in many different ways. Kewra is one of the main ingredient to make the dish royal. Kewra does not change the taste of the dish but it gives a nice aroma which makes the dish special and royal.

Preparation Time :

5 Minutes

Cooking Time :

30 Minutes
| | | | |
| --- | --- | --- | --- |
| Paneer Cubes | 1 1/2 Cup (Approx 250 Grams) | Fresh Curd | 1/2 Cup |
| Ginger Finely Chopped | 1/2 Teaspoon | Garlic Finely Chopped | 1/2 Cup |
| Red Chilli Powder | 1/4 Teaspoon or As Per Taste | Turmeric | A Pinch |
| Garam Masala | 3/4 Teaspoon | Salt | 1/4 Teaspoon or As Per Taste |
| Saffron | A Pinch | Ghee or Oil | 2 Tablespoon |
| Kewra Water (Optional) | 2 - 4 Drops | Cream | 3 Tablespoon |
| Cumin | 1/2 Teaspoon | Cloves | 2 - 3 |
| Cinnamom | 1 Inch | Cashews | 10 - 12 |
| Almonds | 8 - 10 | Green Cardamoms | 3 |
| Green Chilli (Slit length wise) | 1 - 2 | Chopped Onion | 2 Medium |
| Chopped Tomatoes | 2 Medium | Water | 3/4 Cup |
Heat 1 tablespoon of ghee in a pan on medium heat.
Add cashews, almonds and green cardamom and fry until light brown.
Add chopped onions and green chillies and fry the onions till they become translucent, while stirring continuously.
Add the tomatoes and fry until the tomatoes are soft and the mixture is mashed. Add some water to it mix well and cook for a minute.
Turn off the flame, cool for some time at room temperature and transfer the mixture to a blender. Blend the mixture to make a smooth paste or puree. If you find the paste too thick, you can add some water. Sieve the curry to get a really fine and smooth curry.
Add 1 tablespoon of ghee in a pan and heat it on medium heat. Add cumin, cinnamon and cloves and fry them for a minute, until you get a nice aroma.
Stir constantly and add ginger, garlic and fry for a minute.
Now add onion tomato paste, red chilli powder, turmeric powder, garam masala and salt and fry it for 3 - 4 minutes till the masala cooks well and the raw aroma of the spices disappears.
Using a wire whisk or a beater, beat the curd to make it smooth.
Turn down the heat to low and add curd to the pan and mix well. Cook it for about 5 minutes with continuously stirring.
Add 3/4 cup of water and saffron and mix well. Cook it until the gravy thickens, or else you will see traces of oil on the surface of the gravy.
Taste the gravy and add spices whatever required. Add paneer to the gravy and cook on low heat for about 2 minutes, stir occasionally. Add cream and kewra water and mix a little.
Turn off the gas. Transfer the shahi paneer to the bowl and garnish it with cream.
Enjoy shahi paneer with roti or rice at your lunch or dinner.
Share Recipe With Your Friend



Reviews