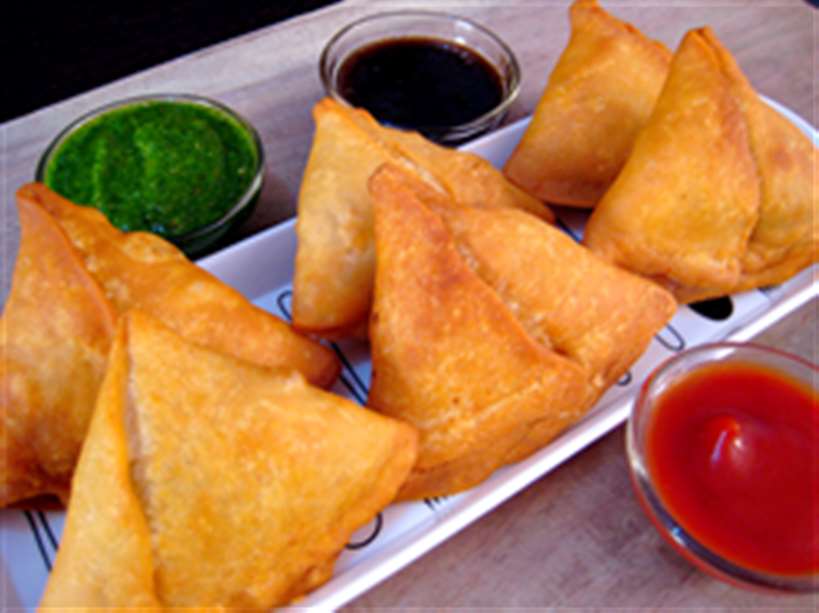 Samosa is made from refined flour. The samosa shell has some filling ingredients, usually mashed boiled potatoes, cheese, finely chopped onions, green peas, green chilies, or a mixture of lentils with spices. The whole samosa filled with the mixture is deep fried in ghee or oil till it turns golden brown. Samosa is always served hot and eaten with green chutney (pudina or coriander) or tamarind chutney. Samosas are often served in chaat either with green chutney, tamarind chutney or with thick gravy chickpeas. Easy Samosa Recipe for you to make at home.

Preparation Time :

30 Minutes

Cooking Time :

30 Minutes

Meal Type :

Appetizers and Snack

,

Vegetarian
| | | | |
| --- | --- | --- | --- |
| Refined Flour (Maida) | 2 Cups | Ghee Or Oil | 3 Tablespoon |
| Carom Seeds (Ajwain) | 1/4 Teaspoon | Salt | 1/2 Teaspoon |
| Water | As Required To Dough | | |
For Stuffing
| | | | |
| --- | --- | --- | --- |
| Potatoes | 4 Medium | Green Peas | 1 Cup |
| Peanuts | 2 Tablespoon | Coriander Leaves Finely Chopped | 3 Tablespoon |
| Green Chilli Finely Chopped (Optional) | 4 - 5 or As Per Taste | Cumin Seeds | 1 Teaspoon |
| Turmeric Powder | 1/2 Teaspoon | Chaat Masala | 1 Teaspoon |
| Coriander Powder | 1 Teaspoon | Salt | 1/3 Teaspoon or As Per Taste |
| Cottage Cheese (Paneer) | 50 Gm | Ghee Or Oil | 4 Teaspoon + For Deep Fry |
| Water | 1/2 Cup | | |
Boil the potatoes in a pressure cooker and set aside to cool.
Cut the cottage cheese (Paneer) into small pieces (about 1/2 cm small cubes).
In a bowl, add refined flour (maida), carom seeds (ajwain), salt and 3 tablespoons of ghee or oil and mix well by rubbing it well by hand. Knead a stiff dough by adding water little by little.
Grease the dough with some oil and cover it with a cloth and keep it aside.
For Stuffing
Peel the boiled potato, as it has cooled down and mash it with the help of a masher.
To prepare the samosa stuffing, put 4 teaspoons of ghee in a pan and heat it on medium heat. When the ghee gets hot, add cumin seeds and fry it for 1/2 minute.
Add green peas and fry for about 4-5 minutes or until the peas are soft. Now add boiled potatoes, peanuts, green chilies, coriander powder, turmeric powder, chaat masala and salt. Fry it for about 4-5 minutes. Add coriander leaves and cottage cheese and mix well. Turn off the heat Stuffing is ready, keep it aside.
Make Samosa
Knead the dough once again and divide it into 8 - 10 pieces. Take a piece of dough and roll it like a roti. Cut it in the middle and make the shape of two half circles. Now take a part, apply some water on the curve side edges and fold it into a cone shape (keep the curve out to give a perfect shape). Fill the stuffing seasoning in it, leaving some of the top parts empty.
Close the stuffed samosa with a little water on the top edges and press it gently with your fingers so that the dough sticks together. Likewise prepare all raw samosas.
Add enough ghee to deep-fry in a pan and heat it on high heat. When it gets hot enough, reduces the heat to medium. Add 4-5 raw samosas and fry until golden brown. Likewise fry all the remaining samosas.
Delicious samosas are ready to be served. Enjoy eating samosa with green chutney or tamarind chutney or some other of your taste.
You can also add raisins or cashews while adding the cottage cheese.
Share Recipe With Your Friend



Reviews