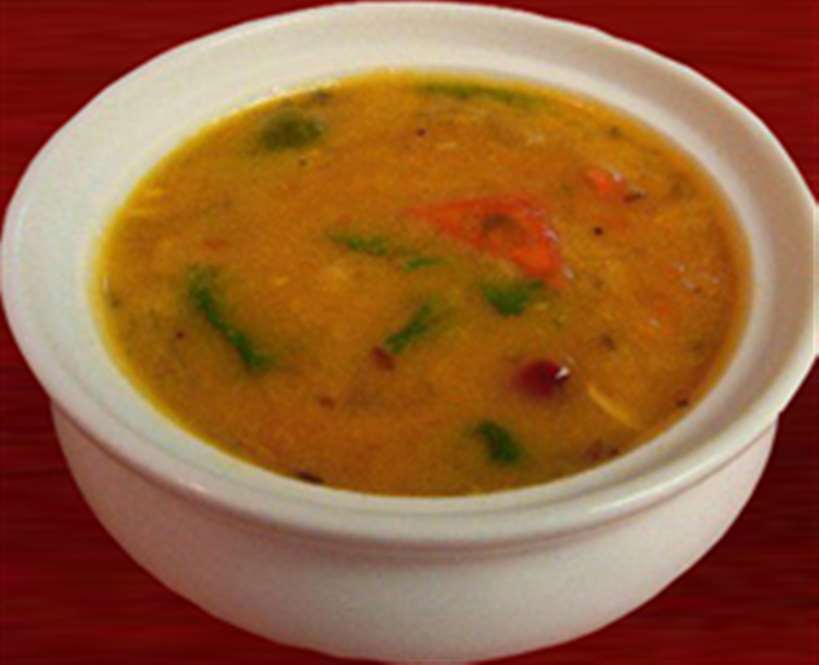 Sambhar is a delicious and favorite dish of South India. You can serve sambar with many dishes like rice, dosa, idli or vada. Sambar is a delicious and healthy dish made of vegetables, lentils, herbs, spices and a special well-known spice called sambar masala. Sambar is one of the most delicious and popular Indian dishes especially in South India, which is not only delicious, but also healthy and nutritious. A typical South Indian sambar recipe includes lots of vegetables such as bottle gourd, pumpkin, brinjal, drumstick, onion, tomato and many more to your liking. Different vegetables give a different taste. You can make delicious and healthy sambar at home by following these recipes.

Preparation Time :

30 Minutes

Cooking Time :

30 Minutes
| | | | |
| --- | --- | --- | --- |
| Pumpkin (Kaddu) | 500 Gm | Bottle Gourd (Lauki) | 200 Gm |
| Split Pigeon Pea (Arhar Dal) | 1/2 Cup | Green Beans Chopped | 3 - 4 |
| Tomato Chopped | 1 Medium | Onion Chopped | 1 Large |
| Tamarind Pulp | 3 Tablespoon | Sambar Masala | 1 Teaspoon |
| Salt | 1/2 Teaspoon or As per Taste | Red Chilli Powder | 1/2 Teaspoon |
| Sugar | 1 Teaspoon | Black Salt | 1/4 Teaspoon or As Per Taste |
| Asafoetida (Hing) | A Pinch | Turmeric Powder | 1/4 Teaspoon |
| Coriander Powder | 1/2 Teaspoon | Ginger Grated | 1 Tablespoon |
| Cumin Powder | 1/2 Teaspoon | Ghee or Oil | 2 Tablespoon |
| Garam Masala | 1/2 Teaspoon | Water | 3 1/2 Cup |
| Coriander Leaves Finely Chopped | To Garnish | | |
Soak tamarind in a cup of water overnight. Sieve the soaked tamarind and remove the seeds and pulp. Keep the tamarind water separate to use.
Wash all the vegetables. Peel off and chopped all the vegetables. Wash the split pigeon peas (arhar dal).
In a pressure cooker, add arhar dal, chopped vegetables (pumpkin, bottle gourd, green beans), 3 1/2 cups water and salt. Boil it in a pressure cooker on medium heat. Turn off the heat after 3 whistles. Allow the pressure cooker to release the entire pressure automatically.
Put 2 spoons of ghee in a pan and heat it on medium heat. When the ghee gets hot, add chopped onion and tomatoes.
Fry it till the onion and tomato become soft and the onion turns light brown.
Mix black salt, turmeric powder, sugar, red chilli powder, garam masala, coriander powder, cumin powder, sambar masala, Asafoetida (hing), grated ginger and tamarind water.
Boil it for 4 - 5 minutes.
By now the pressure cooker will release all the pressure. Open the lid of the cooker and mash the boiled vegetables with the help of a masher.
Pour mixture into boiled vegetables in a pressure cooker.
Close the pressure cooker lid and boil again. When the cooker gives a whistle, turn off the heat.
Leave the pressure cooker to automatically release the pressure. When the pressure releases open the cooker and transfer the sambar to a bowl. Garnish with coriander leaves.
Delicious Sambar is ready to be served. Serve it with idli, dosa, vada or rice.
You can add vegetables as per your choice to make different tastes.
Share Recipe With Your Friend



Reviews