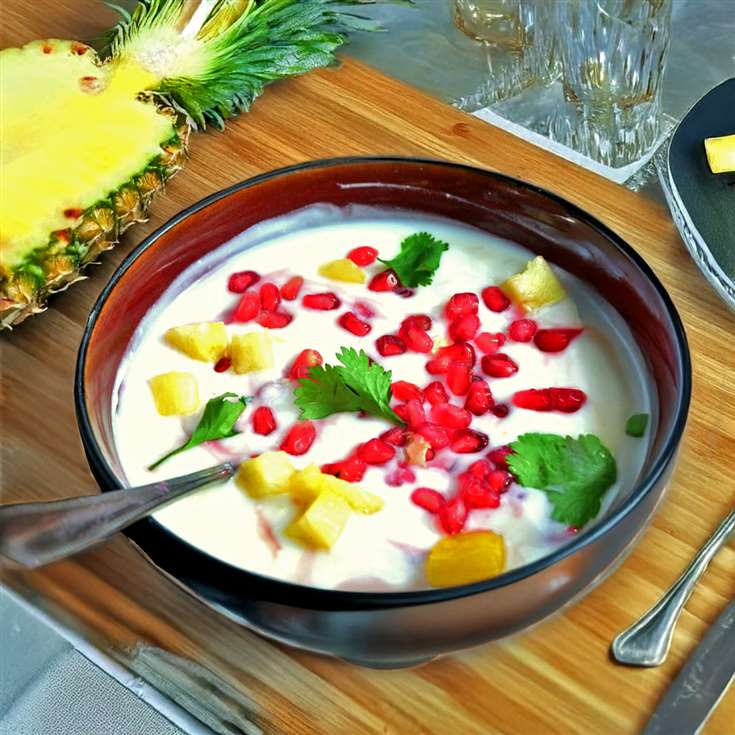 Delicious Pineapple Raita
Delicious Pineapple Raita

Curd, pineapple and pomegranate are very beneficial during summer season. If you have made raita from them then this is the best raita for summer. Here is a delicious pineapple raita recipe for you.

Preparation Time :

20 Minutes

Cooking Time :

15 Minutes
| | | | |
| --- | --- | --- | --- |
| Fresh Thick Curd or Hung Curd | 1 Cup | Pineapple Chopped In Small pieces | 1 Cup |
| Sugar | 4 + 2 +1 Tablespoon | Cumin Powder (Roasted) | 1 Teaspoon |
| Red Chilli Powder | 1 Teaspoon | Black Salt (Rock Salt) | 1/2 Teaspoon Or As Per Taste |
| Milk | 1/4 Cup | Pomegranate seeds | To Garnish |
| Honey | To Garnish | Dry Mint Powder | To Garnish |
| Water | As Needed | | |
Peel the pineapple carefully as it is a bit difficult to peel.
Peel the pineapple again to remove dark spots. This is not wastage, we will use it to make puree. Pour the skin of pineapple with blackspot into the grinder and make a thick puree from it.
Sieve this thick puree to remove the black part and get a clean puree. Keep this clean puree aside and discard the black residue.
Cut the pineapple into small pieces and remove the center hardened seeds as the seed will spoil the taste of raita.
Take 1/2 cup water in a pan and add 4 teaspoons of sugar. Boil it while stirring continuously. When the sugar dissolves, add pineapple pieces and let it boil on medium heat for about 5 - 6 minutes, while stirring occasionally. This will reduce the citrus effect of pineapple.
Let it cool at room temperature.
Whisk the thick curd to make it smooth. Add milk, mix well and keep aside. Make sure there are no lumps in it.
Put pineapple puree in another pan, add 1 tablespoon sugar and cook for 5 - 6 minutes while stirring continuously on medium flame. Let it Cool at room temperature.
Add the pineapple pieces to the curd, add some chopped mint powder and pineapple puree and mix well.
Add 2 tablespoons sugar or as per taste, roasted cumin powder and black salt and mix well.
Transfer this delicious raita to a serving bowl and garnish it with pomegranate seeds, mint powder and honey.
Delicious pineapple raita is ready.
Share Recipe With Your Friend



Reviews