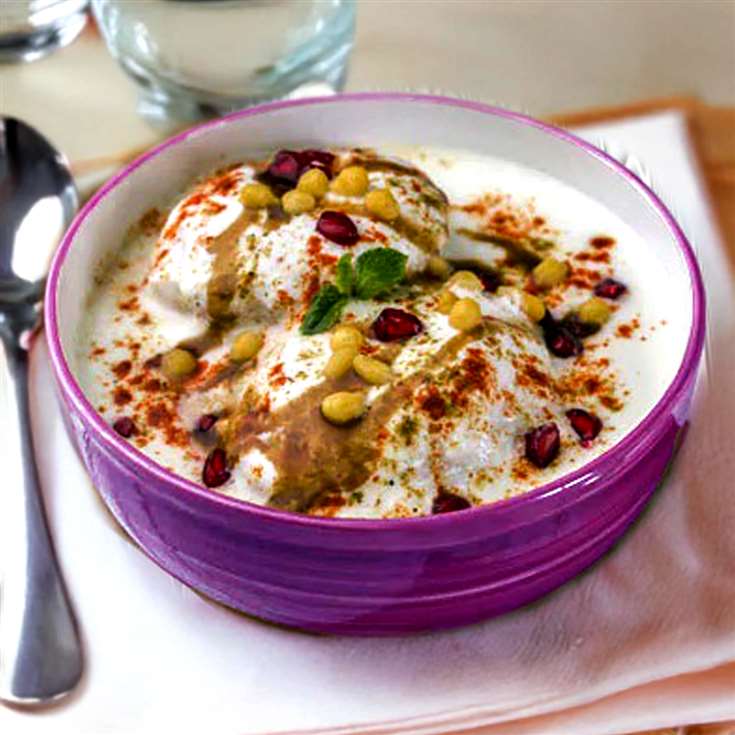 Papdi Chaat is a delicious street food, which is very popular in India, especially in North India. There are many delicious varieties of sweet, sour and spicy chaat in Indian street food, which have no special season to enjoy. Papdi Chaat is one of them delicious chaat, papdi chaat is flat crispy small sized puries with boiled potatoes, boiled chickpeas, onions, sweet and sour chutney, curd, crispy sev and some aromatic spices. The delicious papdi chaat is the perfect crunchy and mouth watering snack for parties. Prepare the raw material for papdi chaat in advance and assemble delicious papdi chaat for your guests. Everyone likes this delicious papdi chaat. We are sharing the recipe of Papdi Chaat so that you can easily make delicious Papdi Chaat at your home.

Preparation Time :

40 Minutes

Cooking Time :

20 Minutes

Meal Type :

Appetizers and Snack

,

Vegetarian
For Papdi
| | | | |
| --- | --- | --- | --- |
| Refined Flour (Maida) | 1 Cup | Wheat Flour | 1/2 Cup |
| Gram Flour (Besan) | 2 Tablespoon | Salt | 1/2 Teaspoon or As Per Taste |
| Carom Seed | 1/2 Teaspoon | Ghee | 1/3 Cup |
| Oil | To Deep Fry | Water | As Needed |
For Topping
| | | | |
| --- | --- | --- | --- |
| Boiled Potato | 1/2 Cup | Onion, Chopped | 1 Medium |
| Coriander Leaves, Chopped | 1 - 2 Tablespoon | Tomato, Chopped | 1 Large |
| Chickpeas, Boiled | 1/4 Cup | Fresh Curd, Beaten | 1 Cup |
| Pudina Chutney | As Per Taste | Tamarind Chutney | As Per Taste |
| Sev | 1/2 Cup | Roasted Cumin Powder | 1 Tablespoon |
| Chaat Masala | 1 Tablespoon | Green Chillies | 2 or As Per Taste |
| Red Chilli Powder | 1 Tablespoon | | |
Boil 3 - 4 potatoes in a pressure cooker. Let them cool slightly, peel and mash the boiled potatoes.
Boil chickpeas and keep them aside.
Pour maida in a big bowl. Add wheat flour, gram flour, salt, carom seeds and ghee and mix well. Slowly add water and knead a tight dough.
Cover the dough with a cloth and keep it aside for at least 10 - 15 minutes.
Meanwhile chopped onion, tomato, green chilli and coriander leaves. Place chopped tomatoes in one bowl and in another bowl add onion and green chillies and coriander and mix well.
Take a portion of maida dough and roll it out like a ROTI on a rolling board using rolling pin.
Take small round shaped utensils like a very small bowl. Using the utensils, cut the roti into small circular shapes and make several small raw papdi from it. Make all the raw papdi in this way and keep them in a plate.
Prick all the raw papdi using a fork.
Heat the oil in a deep pan on medium heat for frying the papdi. When the oil is medium hot, carefully pour 3 - 4 papdi for frying and fry them till they become golden brown and crisp, while gently stirring.
Take out from the oil using a perforated spoon and place them on kitchen tissue paper to absorb excess oil.
Fry all the papadis in this way. Papdi is ready to be served.
Assembling
Take boiled and mashed potatoes in a bowl. Add a pinch of red chili powder and a pinch of chaat masala and mix well.
Take 3 - 4 papdi in a bowl. Add some potato, some mixture of onion coriander leaves and green chillies, some chopped tomatoes, boiled chickpeas, beaten curd, tamarind chutney and green chutney as per your taste, sprinkle some chaat masala and salt over it and on the top of all pour some sev.
The delicious papdi chaat is ready to be eaten. In the same way assemble all the remaining papdi chaat and enjoy.
Share Recipe With Your Friend



Reviews