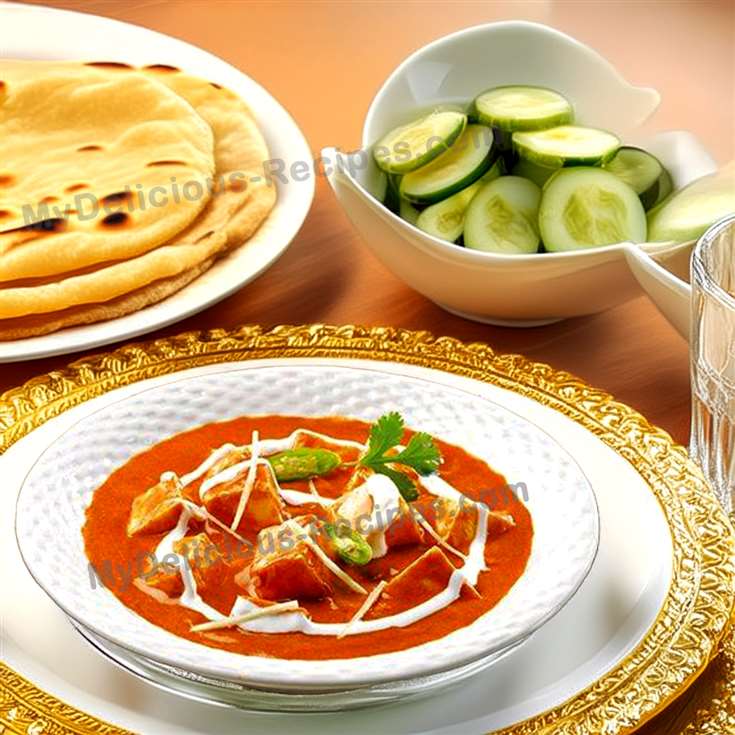 Paneer makhani is one of the popular and delicious dish of paneer. Paneer Makhani is a popular dish in India with a rich cream tomato gravy. Soft paneer cooked in rich and spicy gravy of cream, butter, onions, tomatoes, cashew nuts and spices, which makes Paneer Makhani delicious and healthy. This elaborate recipe of Paneer Makhani gives you every detail to make a finely balanced spicy and creamy dish. You can enjoy the delicious dish with plain paratha or rice and sweet lassi in your lunch or dinner.

Preparation Time :

15 Minutes

Cooking Time :

25 Minutes
| | | | |
| --- | --- | --- | --- |
| Paneer (Cottage Cheese) | 250 Gram, Cut into 1 Inch Cubes | Bay Leaf | 1 |
| Cinnamon | A Small Piece of About 1 Inch | Green Cardamoms | 2 |
| Cumin Seeds | 1/2 Teaspoon | Onions, Finely Chopped | 1 Large |
| Tomatoes | 3 - 4 Medium | Cashew Nut | 8 - 10 |
| Kashmiri Red Chilli Powder | 1/2 Teaspoon | Red Chilli Powder | 1/4 Teaspoon or As Per Taste |
| Dry Fenugreek Leaves (Kasuri Methi) | 1/2 Teaspoon | Garlic, Finely Chopped | 7 - 8 Cloves |
| Sugar (Optional) | 1 Teaspoon | Salt | 1/2 Teaspoon or As Per Taste |
| Butter | 3 Tablespoon | Fresh Cream | 3 - 4 Tablespoon |
| Water | As Needed | Ginger Juliennes | To Garnish |
| Coriander Leaves, finely Chopped | To Garnish | | |
Cut the paneer into cubes or rectangles of your choice.
Heat 2 tablespoon of butter in a frying pan on medium heat. When the butter melts and is hot enough, add bay leaf, green cardamom, cumin and cinnamon and fry for a minute while stirring.
Add finely chopped onions, cashews and chopped half of the chopped garlic to it and fry it till onions becomes translucent. Add chopped tomatoes, Kashmiri red chilli powder and salt and fry on medium heat for about 2-3 minutes while stirring.
Add dry fenugreek leaves (kasoori methi) and 2 - 3 tablespoons of water. Fry till the tomatoes are soft. Turn off the gas and allow the mixture to cool at room temperature.
Remove the bay leaf from the mixture and transfer this mixture to a grinder and grind it to make a smooth and fine paste. If you face difficulty grinding the mixture, add a little water to it and make the smooth and fine paste.
Add 1/4 cup of water to the paste. Sieve the paste to get a really fine paste using a soup strainer, and set aside for later use.
Heat 1 teaspoon of butter in a frying pan over medium heat. When the butter melts and becomes hot enough, add remaining chopped garlic and red chili powder, mix well and fry for about 20 - 30 seconds. Add the prepared onion, tomato paste and mix well. Cook it for about 3 - 4 minutes until oil starts coming out of it.
Add 3/4 cup water and sugar and mix well, cook it on medium heat for about 4-5 minutes, stirring occasionally to prevent the gravy sticking on the bottom of the pan.
Don't forget to cover the pan as the gravy will splatters while boiling.
Remove the lid of the pan and taste the gravy for salt and spices, add salt or spices if needed and mix well. Stirring well and add paneer cubes and mix gently. Cook it for about 2 - 3 minutes, while stirring occasionally to avoid sticking. Add 3 tablespoons of fresh cream to it and mix well.
Turn off the gas and transfer it to a serving bowl. Garnish it with cream, ginger juliennes and coriander leaves.
Enjoy the delicious Paneer Makhani with Roti, Rice or Paratha at your lunch or dinner with sweet lassi.
Share Recipe With Your Friend



Reviews