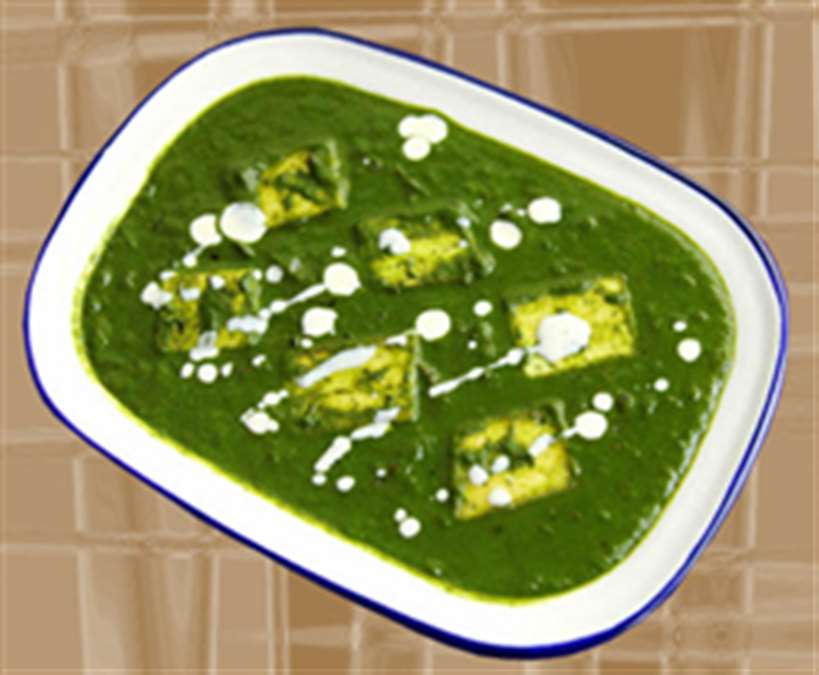 Palak Paneer is a delicious and mouthwatering Indian dish made of soft paneer in a smooth, creamy and thick gravy of spinach which is cooked with ginger, garlic and Indian traditional spices. No one can resists the delicious and yummy taste of Palak Paneer. Palak Paneer is very much popular in Indian restaurants and dhabas. Palak Paneer is always a special dish in Indian restaurants and dhaba. You can serve hot delicious "Palak Paneer" at your lunch or dinner with roti, butter naan, rice or paratha. By using this easy recipe of Palak Paneer, you can easily make delicious Palak Paneer at home.

Preparation Time :

15 Minutes

Cooking Time :

30 Minutes
| | | | |
| --- | --- | --- | --- |
| Palak (Spinach) Leaves | 2 Bunch | Paneer (Cut into 1 Inch Cubes) | 250 - 300 Grams |
| Grated Ginger | 1 Inch | Chopped Garlic | 3 - 4 Pods |
| Ghee or Melted Butter | 2 Tablespoon | Cumin Seeds | 1/2 Teaspoon |
| Coriander Powder | 1/2 Teaspoon | Bayleaf | 1 |
| Cloves | 3 - 4 | Finely Chopped Onion | 1 Large |
| Asafoetida | A Pinch | Turmeric Powder | 1/2 Teaspoon |
| Finely Chopped Tomato | 2 Medium | Black Peppercorn | 4 - 5 |
| Red Chilli Powder | 1/2 Teaspoon or As Per Taste | Chaat Masala | 1/2 Teaspoon |
| Chopped Green Chilli | 2 | Garam Masala | 1/2 Teaspoon |
| Kitchen King Masala | 1/2 Teaspoon | Dried Fenugreek Leaves (Kasuri Methi) | 1/2 Teaspoon |
| Fresh Cream | 1 Tablespoon + To Garnish | Kewra Water | 1 Drop |
| Chopped Coriander Leaves | To Garnish | Water | 1 Cup |
Pluck the tender and young leaves of the spinach and discard the stem, collect the leaves in a large bowl. To clean, wash them using a strainer and let the water drain completely.
Transfer clean spinach leaves to pressure cooker. Add 1/2 teaspoon salt and 1 cup of water. Boil it for 3 whistles on high heat. Turn off the gas and allow the cooker to release all the pressure automatically.
When all the pressure is released, transfer the boiled leaves to a blender. Do not add water to it.
Blend the leaves to make a smooth puree. If the puree is too thick or if you are facing problems in blending then add some water. Keep the puree aside for later use.
Finely chop onion, tomato and garlic and grate ginger. Cut the paneer into about 1 inch cubes.
Heat 2 tablespoon of ghee or unsalted butter in a pan. When the ghee gets hot, add bayleaf, black pepper, cloves, cumin, chopped ginger, garlic and green chillies, stir well and fry for a minute.
Add the onion and fry it until the onion becomes translucent, stirring occasionally.
Add turmeric powder, asafoetida, coriander powder, red chilli powder, kitchen king, chaat masala, garam masala and stir well. Fry it for a minute and add dried fenugreek leaves and stir.
You will get a nice fragrance, then add chopped tomatoes, salt and a little water to it, which you use to boil the spinach. mix well and fry it until the tomatoes become soft. Add fresh cream and spinach puree and mix well.
Cook it for 2-3 minutes as the spinach is already boiled so there is no need to cook much. Stir continuously, otherwise the spinach will splatter everywhere on your working desk.
Add 1 drop of Kewra water to it and mix well. Taste for salt and spices, add whatever is necessary and mix well. If you need to add salt or spice, fry for a minute with constant stirring.
Add the paneer cubes and tossed gently so that the paneer does not break but mix.
Garnish the delicious palak paneer with some fresh cream and chopped coriander leaves.
Delicious palak paneer is ready to be serve. Serve the delicious dish hot with roti, butter naan or rice.
Share Recipe With Your Friend



Reviews