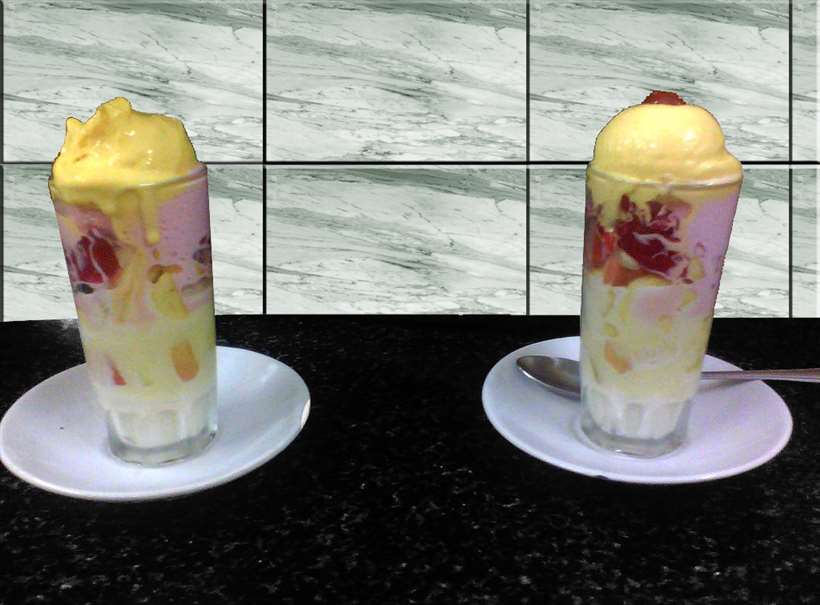 Mango Mastani is a delicious dessert consisting of fresh milk shake with mango flavour and ice cream. Mango Mastani is delicious and full of flavor. This simple mango flavored recipe is mind blowing.

Meal Type :

Ice Cream Dessert and Sweets

,

Smoothie
| | | | |
| --- | --- | --- | --- |
| Mango | 2 Small | Sugar | 2 - 3 Teaspoon |
| Milk | 1 Cup | Vanila Ice Cream | 4 Scoop |
| Mix Dry Fruits (Nuts) Finely Chopped | For Garnish | Crushed Ice | |
Prepare Mango Puree
Take a clean blender. Peel a mango and cut in a blender.
Add sugar and blend well to make mango puree. Keep it aside.
Prepare Mango Shake
Take another mango. Peel the mango and cut it in a blender.
To make the mango shake, pour milk and crushed ice in the blender and blend.
Mango shake is ready. Keep it aside too.
Mango Mastani
Take 2 large glasses.
Add 2 tablespoons of mango puree to each glass.
Add 1 scoop vanilla ice cream to each glass.
Pour some mango shake in each glass. So that the glass is half full.
Repeat the process and add the mango puree, ice cream and mango shake to the glass to fill the glasses.
Add some small sliced ​​mango pieces on top and garnish with dry-fruit.
Mango Mastani is ready to serve.
Add any flavor such as chocolate or strawberries to the Mango shake to make it more delicious.
Share Recipe With Your Friend



Reviews