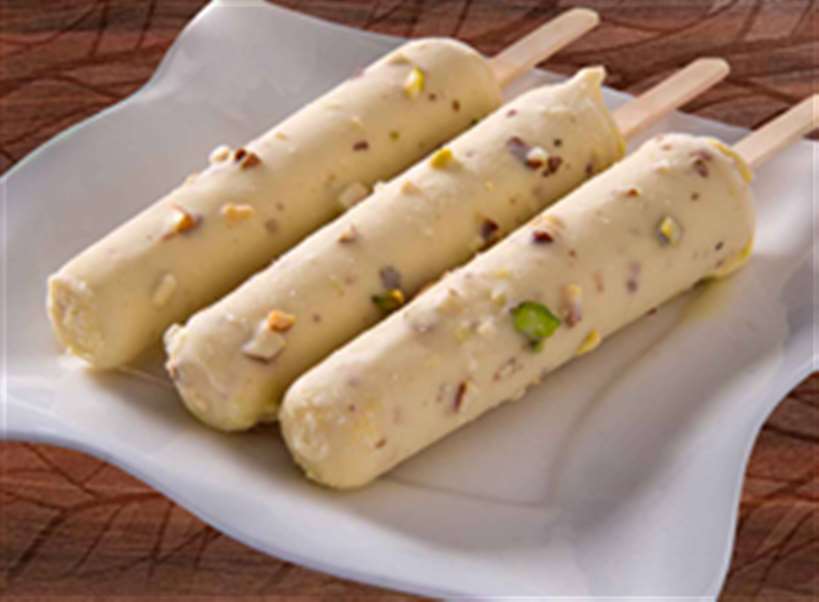 Kulfi is a frozen dessert of India since the 16th century, also known as "traditional Indian ice cream". Kulfi is a delicious and popular frozen dessert of India also popular in Sri Lanka, Nepal, Bangladesh, Burma and many other countries, and readily available in the restaurants serving Indian food around the world. Kulfi is very similar in taste to ice cream but Kulfi is more creamy and dense. Kulfi has a variety of flavors. The most famous flavors are Malai Kulfi, Gulab, Mango and Kesar Pista. The ice cream is soft because it is whipped, while the kulfi is not whipped, so it is a solid, creamy and dense frozen dessert. Kulfi is similar to custard ice cream. Kesar Pista Kulfi is one of the most famous and delicious Kulfi that can be enjoyed in any season of the year. When you plan to invite your friends to a dinner party, serve delicious Kesar Pista kulfi or for the celebrations like Holi or Diwali or any other party. We are sharing the delicious saffron pistachio kulfi recipe here.

Preparation Time :

2 Hour

Cooking Time :

40 Minutes

Meal Type :

Ice Cream Dessert and Sweets
| | | | |
| --- | --- | --- | --- |
| Milk | 1 Liter | Milk Powder | 1/2 Cup |
| Sugar | 2 Tablespoon | Cardamom Powder | 1/2 Teaspoon |
| Almonds, Soaked Peel and Finely Chopped | 10 | Pistachio, Finely Chopped | 35 - 40 |
| Safron (Kesar) | 30 - 35 Threads | | |
Take almonds and soak them in water for overnight. Peel the almonds and finely chop them.
In a small bowl, add 1 teaspoons of warm milk and saffron and mix well. Keep it aside for 2 hours.
After 2 hours start the process of making Kulfi.
Take a heavy bottom pan and add milk and boil it on high heat, while stirring occasionally. when the milk starts boiling reduce the heat to medium.
Continue boiling over medium heat, stirring occasionally to reduce milk to 50% of original volume. Add milk powder to it and mix well, making sure there are no lumps of milk powder in it. Boil it for another 15 minutes.
Add cardamom powder, saffron milk mixture, sugar and mix well. Add finely chopped almonds, pistachios and mix well. Turn off the gas and allow the mixture to cool to room temperature.
Fill the kulfi molds with this milk and put a kulfi stick in the middle of the mold. Keep the mold in the freezer to freeze the kulfi for about 6 - 8 hours.
After about 8 hours, take the mold out of the freezer and submerge the mold in water for a few seconds and then pull out the kulfi with a stick.
Kesar Pista Kulfi is ready. Enjoy delicious kesar pista kulfi.
Share Recipe With Your Friend



Reviews