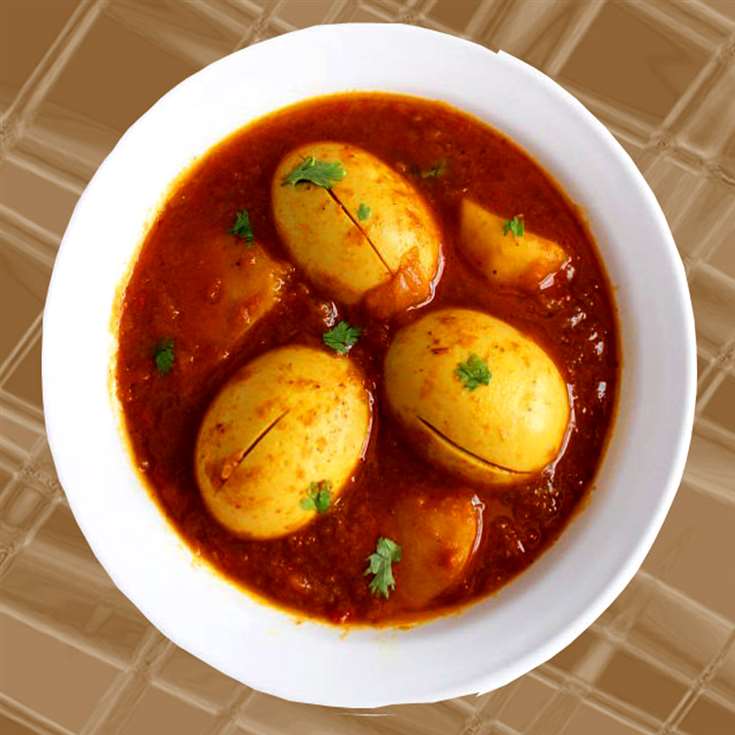 How To Make Boiled Egg Curry
Eggs are great sources of protein and can be used to make a variety of delicious dishes. Egg masala curry is a wonderful dish among them. Where boiled eggs are added to the spicy masala gravy. Delicious recipe of egg curry for your lunch or dinner.

Preparation Time :

10 Minutes

Cooking Time :

20 Minutes
| | | | |
| --- | --- | --- | --- |
| Boiled Eggs | 4 | Tomato finely chopped | 3 Medium |
| Onion Finely chopped | 2 Medium | Garam Masala | 3/4 Teaspoon |
| Ginger Paste | 1/2 Teaspoon | Garlic Paste | 1/2 Teaspoon |
| Red Chilli Powder | 1/2 Teaspoon Or As Per Taste | Turmeric Powder | 1/2 Teaspoon |
| Cumin Powder | 1 Teaspoon | Chaat Masala | 1 Teaspoon |
| Meat Masala | 1 Teaspoon | Salt | 1/2 Teaspoon Or As Per Taste |
| Green Cardamom Powder | 1/2 Teaspoon | Ghee Or Oil | As needed |
Break the boiled eggshell.
Put ghee or oil required for deep-fry eggs in a vessel. Heat ghee on high heat. When the ghee gets hot enough, turn the heat to medium and add boiled eggs to it. Fry the eggs for one minute, do not fry too much that the eggs become hard.
Take out the eggs from ghee. Now put 2 tablespoons of ghee in another vessel and heat it on medium heat. Add onion, tomato, ginger paste, garlic paste, garam masala, salt, red chilli powder, turmeric powder, cumin powder, chaat masala, Green Cardamom Powder and meat masala. Fry it till the tomato becomes soft and the onion becomes translucent.
Add about 2-3 cups of water to it and let it boil. Now add the fried eggs and cook the gravy till it thickens to your choice.
Serve hot egg curry with chapatti at lunch or dinner.
Share Recipe With Your Friend



Reviews