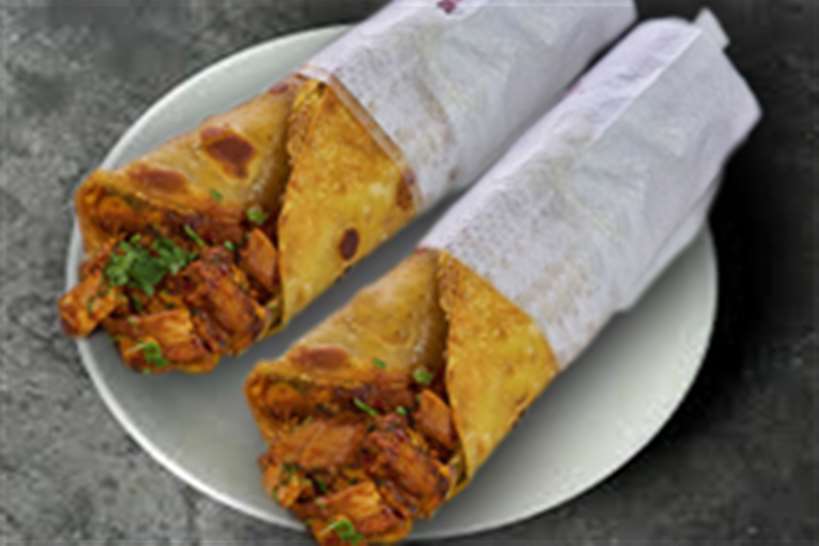 How to Make Chicken Frankie Roll
Chicken Frankie Roll Recipe

Chicken Frankie Roll or Chicken Frankie or Chicken Roll is a stuffed roti filled with a mixture of eggs and chicken. Chicken Frankie is a delicious and very famous Indian street food which is liked by children as well as elders. You can make delicious chicken frankie or chicken rolls quickly and easily, whenever you have some leftover roti / chapati or you can make fresh rotis. The rotis for Frankie are usually made from maida (refine flour) but you can also use wheat flour or you can also make rotis with mix flour ie half wheat flour and half maida. Frankie can also be made with any other meat stuffing. Vegetarian Frankie is also delicious and can be made with paneer or potatoes. We are sharing the recipe of Chicken Frankie. By adopting this recipe, you can make Chicken Frankie easily at home.

Preparation Time :

8 Hour

Cooking Time :

35 Minutes

Meal Type :

Appetizers and Snack

,

Non Vegetarian
| | | | |
| --- | --- | --- | --- |
| Boneless Chicken | 250 Gram | Ghee Or Oil | 2 - 3 Tablespoon |
| Onion, Sliced | 2 Medium | Coriander Powder | 1 Teaspoon |
| Ginger Paste | 1 Teaspoon | Turmeric Powder | 1/4 Teaspoon |
| Roasted Cumin Powder | 1 Teaspoon | Garlic Paste | 1 Teaspoon |
| Red Chilli Powder | 1 Teaspoon or As Per Taste | Coriander Leaves | 2 Tablespoon |
| Butter | 4 Teaspoon | Roti / Chappati | 4 |
| Eggs | 2 | Frankie Masala | 1 Teaspoon |
| Green Chillies | 2 | | |
For Marination
| | | | |
| --- | --- | --- | --- |
| Lemon juice | 1/2 Tablespoon | Red Chilli Powder | 1 Teaspoon or As Per Taste |
| Coriander Powder | 1 Teaspoon | Salt | 1/2 Teaspoon or As Per Taste |
| Roasted Cumin Powder | 1 Teaspoon | Turmeric Powder | 1 Teaspoon |
For Roti / Chappati
| | | | |
| --- | --- | --- | --- |
| Maida (Refined Flour) | 1 Cup | Salt | 1/4 Teaspoon |
| Water | As Required | Ghee or Oil | 2 Teaspoon |
Cut the chicken into small pieces. Wash and clean it through it.
Take chicken in a bowl. Add salt, red chili powder, turmeric powder, coriander powder, roasted cumin powder and mix well. Cover the bowl with a lid and keep it to marinate for about 8 hours or overnight.
Cut green chilies into small pieces and add some vinegar and keep aside for about 1/2 hour.
Take 1 cup maida in a bowl. Add salt as per taste. Gradually add some water and knead the dough. Add 2 teaspoons of ghee or oil and kneed again.
Cover the dough with a wet cloth and keep it aside for 1/2 hour.
Make small balls with dough. Give it a circular shape using a rolling board and rolling pin.
Preheat griddle over medium heat. Sprinkle some ghee over it. Place raw roti on top of it. Cook half the roti, cook only until white spots appear. Cook it from the other side but only half.
Cook half all the roties and keep aside.
Heat 2 tbsp ghee or oil in a non stick pan. When the ghee gets hot, add half of the sliced onion and saute it while continuously stirring till it becomes soft and translucent.
Add ginger paste, garlic paste and fry it while stirring continuously until the raw aroma is gone.
Add coriander powder, roasted cumin powder, turmeric powder, red chili powder and fry it for a minute. Add marinated chicken and mix well.
Increase flame for high and fry chicken for 2 to 3 minutes, stirring occasionally.
Turn down the heat to medium, cover the pan and let it cook for about 7 - 8 minutes. Open the pan and mix well, check if the chicken has softened, if not cover it again and cook for another 5 minutes.
Add coriander leaves and mix well. Turn off the gas. Stuffing is ready.
Preheat the griddle on high heat. Add 1/2 teaspoon of butter. When it melts place the half cooked roti over it and cook it for a few seconds and flip it to cook from other side.
Break 2 eggs in a bowl and beat it. Take out the roti in a plate and add 1/2 teaspoon of butter to the griddle again. When it melts, spread 1/4 of beaten egg over it.
Place roti over the egg and press it so that the roti sticks to the egg.
Place the roti over the egg and press it so that the roti sticks to the egg and cook it for a few seconds until the egg turn golden brown.
Transfer the roti with the egg to a plate, keep the egg side towards upward.
Spread some chopped onion on it. Sprinkle some Frankie Masala, vinegar soaked green chillies. Add some chicken stuffing to the side of roti.
Fold the roti and make a Frankie roll. Take butter paper or foil paper and roll on the lower half of the roti.
Delicious Chicken Frankie Roll is ready. Likewise make the remaining Frankie.
Enjoy the Hot Chicken Frankie Roll.
Share Recipe With Your Friend



Reviews