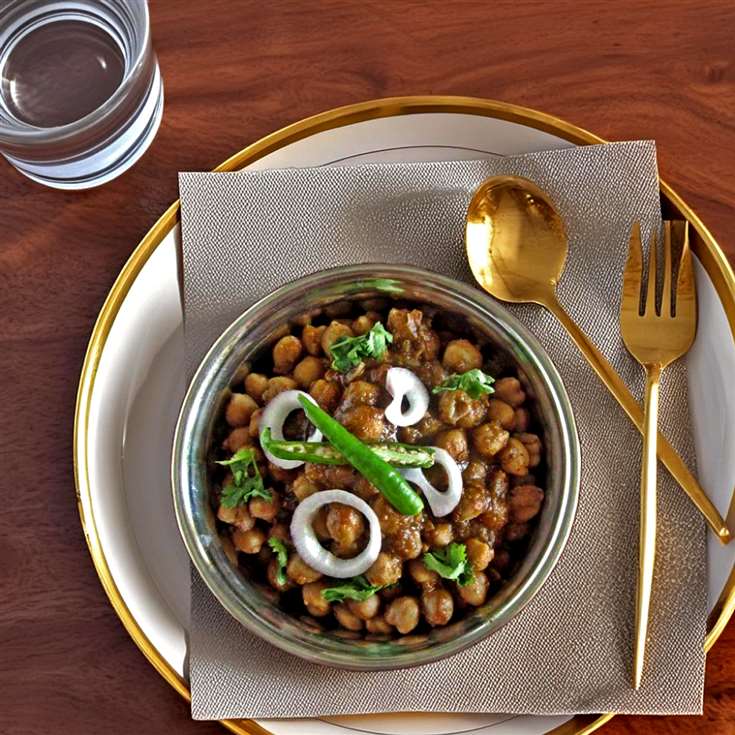 Chana masala is a delicious Punjabi dish made from chickpeas and is popular all over India. This spicy curry dish is made of white chickpeas (kabuli chana), onions, tomatoes with Indian spices, especially chana masala. This delicious curry dish is served with plain rice, bhature or chapatti for lunch or dinner. In this detailed recipe, the chickpeas have been boiled with tea powder and gooseberry (amla) to give it a special taste and color and chana masala is used for a special flavor. Follow this detail recipe and make this delicious chana masala at your home.

Preparation Time :

8 Hour

Cooking Time :

40 Minutes
| | | | |
| --- | --- | --- | --- |
| Chickpeas (Kabuli Chana) | 1 1/2 Cup | Black cardamom | 1 |
| Green Cardamom | 4 | Black Pepper | 7 - 8 |
| Cinnamon | 1 Stick | Cloves | 4 - 5 |
| Bay leaf (Tej patta) | 1 | Dried Gooseberry | 4 Wedges |
| Tea Leaves or Tea Powder | 3/4 Teaspoon | Baking Soda | 1/2 Teaspoon |
| Salt | 1/2 Teaspoon or As Per Taste | Carom Seeds | 1 Teaspoon |
| Garlic Finely Chopped | 1/2 Teaspoon | Ginger Finely Chopped | 1/2 Teaspoon |
| Onions Finely Chopped | 2 Medium (1 Cup when chopped) | Turmeric | 1/2 Teaspoon |
| Red Chilli Powder | 1 Teaspoon or As Per Taste | Coriander Powder | 1 Tablespoon |
| Cumin Powder | 1 Tablespoon | Chana Masala | 1 Tablespoon |
| Fresh Tomato (Puree) | 3 - 4 Medium (1 Cup after make puree) | Fenugreek Leaves Powder (Kasoori Methi) | 1/4 Teaspoon |
| Dry Mango Powder (Aamchoor) | 1/2 Tablespoon | Ghee Or Oil | 2 Tablespoon |
| Water | 3 Cup | | |
Soak the white chana (chickpeas) in water for about 8 hours or overnight.
Take a muslin cloth to bind some spices. Add black cardamom, black pepper, green cardamom, cinnamon, cloves, bay leaves, dried gooseberries and tea powder to the cloth and tie to make a bundle.
Take a pressure cooker and add spice bundle, soaked chana, baking soda, 3 cups of water and salt to it. Close the pressure cooker lid and boil the chana for 4 whistles. First Whistle at high heat and then at low heat.
While the chana is boiling we prepare the masala for it.
Put 2 tablespoons of ghee or oil in a frying pan and heat it on medium heat. Add carom seeds, chopped garlic, chopped ginger and chopped onion and stir well, fry it till the onion becomes light brown. Stir occasionally.
Add turmeric, red chilli powder, coriander powder, cumin powder and chana masala and mix well. Fry it for a minute while stirring. Add fresh tomato puree and stir well. Add a pinch of salt, fenugreek leaves powder and aamchoor powder to it. Fry it till the masala thickens.
Now the chana is also boiled. Remove and open the pressure from the pressure cooker. Remove the water from the boiled chana using a sieve and preserve the water for later use.
Remove the bundle of cloth and add boiled chana to the masala in the frying pan. Fry it for 2-3 minutes while stirring continuously. During the stir, some chana are mashed and added to the spices which is good for taste.
Add half the water from the reserved water. Cook the chana for about 15 minutes on a medium flame, stirring occasionally. If you like more gravy, or if you find the chana gravey thicker, you can add some more water to it as per your liking.
Chana masala is ready. Enjoy the dish with bhature, plain rice or chapati.
Green chilli pickle will enhance the taste of chana masala.
Share Recipe With Your Friend



Reviews