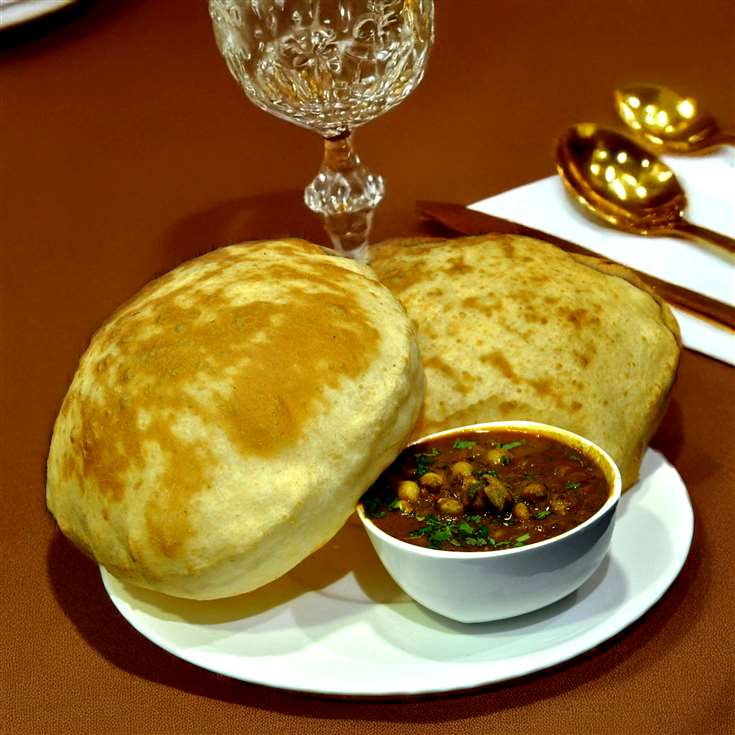 Bhatura : A classic puffed Indian bread made of refined flour (maida), always served with Chole. This classic Indian deep-fried bread a vegetarian dish is made with fermented maida dough. By following this recipe, you can make delicious bhatura and enjoy bhatura with chana masala, onion salad and green chilli pickle for lunch or dinner.

Preparation Time :

4 Hour

Cooking Time :

25 Minutes
| | | | |
| --- | --- | --- | --- |
| Refined Flour (Maida) | 2 Cup | Semolina (Rava / Suji) | 1 Tablespoon |
| Curd | 4 Tablespoon | Baking Powder | 1/4 Teaspoon |
| Sugar | 1 Teaspoon | Ghee or Oil | 2 Tablespoon + For Deep Frying |
| Salt | 1/2 Teaspoon or As Per Taste | Water | As Required |
Sieve refined flour (maida) and semolina (suji) in a platter (parat or thal). Add salt, sugar, curd, baking powder and 2 tablespoons ghee and mix well.
Add some water and mix well. Knead a soft and smooth dough by adding water little by little.
Apply a thin coating of ghee over the dough, cover the dough and keep the dough in a warm place for about 3 - 4 hours to fermentation.
After 4 hours you will find that the size of the dough will increase. Divide the dough into 12 equal parts and make balls from it.
Pour a few drops of ghee on the rolling board. Take a ball and place it on a rolling board and press it with your palm to give it a circular shape. Using a rolling pin, give a circular shape of 4 - 5 diameter.
Repeat this with all balls. Using a rolling pin, give all the balls a circular shape of 4 - 5 diameter and place it on a plate to fry.
Heat ghee or oil in a pan to deep fry on high heat. To check whether the ghee is hot enough, add a small piece of flour. If the dough comes to the surface without changing its color then the ghee is hot enough.
Reduce heat to medium. Now put Bhatura in it for frying. Gently press the bhatura into the ghee and release. Using a perforated spoon pour hot ghee over the bhatura. When the bhatura turns light brown, flip it to fry it from the other side. When frying bhatura from both sides, remove it from the ghee using a perforated spoon to drain excess ghee in the pan. Transfer it into a plate.
Likewise fry all the bhatura. Bhatura is ready to serve. Enjoy hot bhature with chana masala.
Green chilli pickle with chana masala will enhance the taste of hot bhatura.
Share Recipe With Your Friend



Reviews